Grove is intended to be flexible for every situation. Whether you are a family of 6, or a household of 1, Grove makes it easy to get what you want, when you want it.
Our community loves that our monthly shipments are easy to customize and help ensure that you never run out of the essentials you need.
We know that every household is different and our flexible monthly shipments might not work for everyone. If you'd prefer to opt out of our scheduled shipments completely, you can take care of that in your account settings.
If you're here to learn about how Grove can work for you, read on!


Everything you need, nothing you don't
Grove ships monthly so you never run out of the essentials you need, but our flexible services can be customized for your unique household. You're always in control to edit, add, and remove items and you can always change your order date if you don't need anything right away!
You can do the following to make sure Grove is working just right for you:
Remove a product: Click the "X" icon in the top right of the product tile in your cart

Customize Product Subscriptions:

Products you purchase are automatically added to your

Product Subscriptions,

which add items to your orders at a smart frequency to make sure you never run out of the products you use regularly.

Click here to customize your product subscriptions. From here you can change how frequently products are added to your cart (for example, you might need toilet paper every month, but a hand soap refill every other month), or click the "x" to unsubscribe so a product won't add to your cart automatically again.
Change your order date: Click the "Change Date" button in your cart to choose a date for your next order. You can push back your next order up to 90 days after your last order, and postponing your order will also postpone all future orders.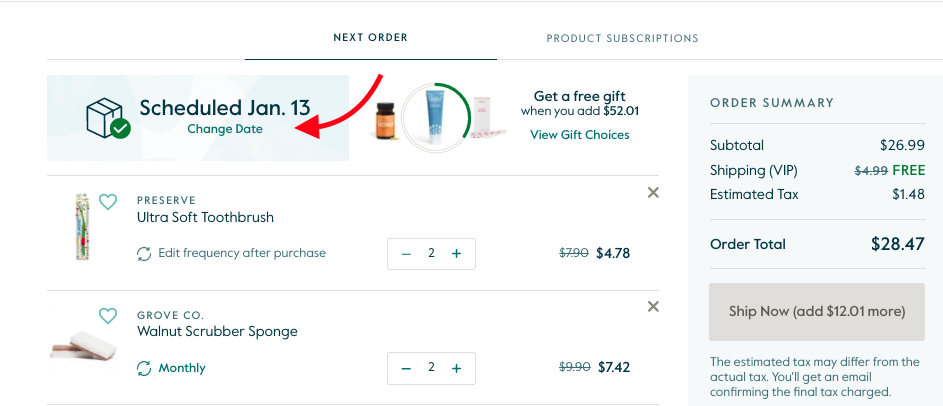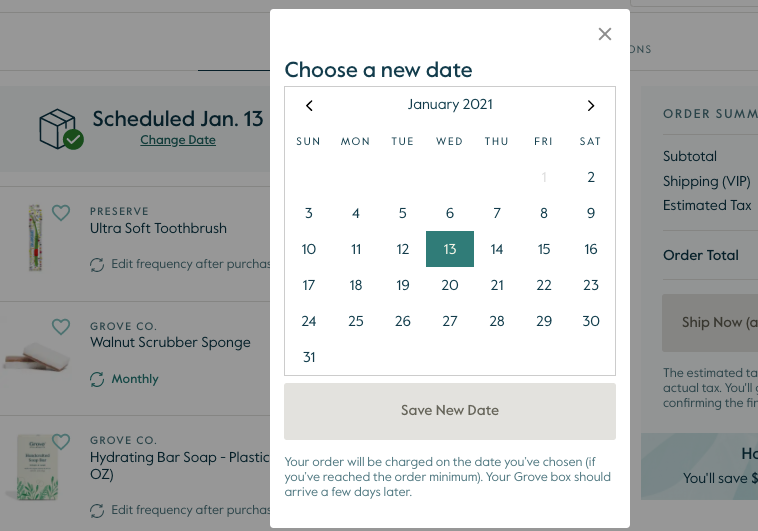 Plenty of reminders
We'll send you three email reminders before each order: emails will arrive seven and five days before your order, then a final email the day before your order processes so you always know what's coming. You can also add your phone number into your account to receive text reminders, or if you have a smartphone, download our free app (available for both iOS and Android), which provides order reminders and makes managing your Grove orders a breeze.
We want to make sure you have plenty of heads up to make any necessary changes to your order, or postpone if you're all stocked up! If you have any other questions about Grove's services, contact our team of Grove Guides - we're here to help make sure Grove works for you!